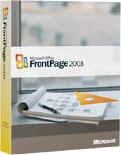 FrontPage

2003 is the latest version of Microsoft's web design program.
It is sold as as a separate package, from Microsoft Office, but can still take advantage of shared Office features like Picture Manager and Clip Organize.
In the past Dreamweaver has lead FrontPage in areas such as creating templates and special effects such as mouseover images. This release closes that gap while still retaining the advantage in site management and application development.
To simplfy the design process, a wide range of templates and step by step wizards are included. These can help quickly help you build a large website, with the pages all linked in a logical structure. Unfortunately, there are no online tutorials included in the help system, and the half-finished pages created by the wizards may confuse beginners,
There is plenty in FrontPage 2003 to appeal to experienced users, for example you can edit the HTML code directly and view the results in a split window along side it. There's also a very useful preview function, letting you check the appearance of your site at different browser resolutions.
This now includes a split window view that displays the actual HTML code at the top of the page and the WYSIWYG page at the bottom.
The site management tabs, now include a remote-site view, so you don't have to open a separate dialog window
The new Button Builder adds mouse-over actions to navigation bars.
The new Layout Table feature, positions text and graphics in a framework visible in the editing screen but not in a browser.
A Tracing Image feature lets you view your site as a translucent layer underneath the main screen, allowing you to position elements manually to match their locations on the original. Themes now use a Cascading Style Sheets (CSS) to achieve smaller and more easily maintained code.
Discounts are available for users who wish to upgrade from earlier versions of the program.

System Requirements
Min Hard Drive Space: 180 MB
Min Processor Speed: 233 MHz
Min RAM Size: 128 MB
OS Required: Microsoft Windows XP or later, Microsoft Windows 2000 SP3 or later
Importing files to the shopping cart
Open your FrontPage Web
The location for the files to be imported is c:\shop3
Click on File, Import, Add File, Open, OK