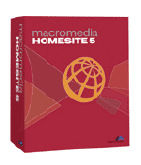 Macromedia HomeSite
Introduction

Originally produced by Allaire, Macromedia's HomeSite is an designed for those that like to hand code their web pages. Newcomers to web design or those that prefer a WYSIWYG environment may want to consider Macromedia other product Dreamweaver.

Code Editing
One of HomeSite's strongest points is the editing window. There are numerous options including color-coding, tag help, validation, and code optimisation. It recognises XHTML documents and validates and edits tags accordingly. Unicode and other international character sets are support by a new double-byte mode.
Secure Uploading of Files
A useful FTP manager handles connections and file uploads to your server. This can be used as an alternative to the inbuilt FTP utility in our shopping cart setup program. It also support 40 bit encryption for FTP using Secure Sockets Layer(SSL).
Automatic Backup
The Auto Backup feature regularly saves your work to a folder of your choice. You can retrieve not only the last document to be saved, but also earlier versions of pages.
Fireworks compatibility
One of the benefits of Macromedia acquisition of Homebase is the Integration with Fireworks. Graphics and layouts created in Fireworks can now be imported directly into HomeSite.

Browser Support
You can configure multiple browsers for to view and test your web pages and not just limit your self to Internet Explorer. The design window can also be split into a a code view and a browser view. Any changes in code being instantly viewable on the browser side.

XHTML Validation
This check that the webpage conforms to the XHTML standard as recommended by the World Wide Web Consortium. The built-in validator will point out the slightest error in any web page and help make your web page viewable in the widest range of browsers possible.
Summary
Beginners may be put off by the programs steep learning curve, but experienced web designers who prefer to code by hand will be hard pushed to find a better product.