Setting Up a Test (Sandbox) Website Payments Pro Account.
Step 1 Login to the PayPal Sandbox
at http://developer.paypal.com
or sign up if you have not already done so.
This will let you create test accounts with their associated email and API credentials.
---
Step 2. Create a PayPal Business Sandbox Account
Once you have logged in to the PayPal Sandbox. Look under Test Accounts.

Click on Create a preconfigured buyer or seller account.
Select your Country
and set the Account Type to Seller
Make a note of the email address of the account. You will need this when you are signing up for website Payments Pro.

---
Step 3. Verify the Sandbox Account
If you see"Get Verified" in your account, you will need to verify it by following the steps after clicking "Get Verified".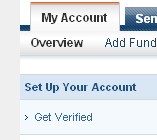 Adding a bank account
This changes the account from from "Unverified" to "Verified."
US Accounts
The Sandbox automatically generates bank account and sort code numbers when you add a
bank account to an US Account.
UK, Australian, Canadian and German Accounts
To add test Canadian, German, or UK bank account information, use the following test numbers.
UK
Australia
Canada
Germany

Bank Account Number:
Any 8-digit number

BSB Number:
242-200

Transit Number:
00001

Routing Number:
37020500

Sort Code:
609204 or 700709

Account Number:
any random number

Institution Number:
311

Bank Account Number:
Any 10-digit number

Bank Account Number:
Any one-digit to 12-digit number

Sort Code:
Any 8-digit number
Error Messages
If receive an an error message when attempting to verify the account, contact MTS requesting that they verify the account for you, providing the email address of the Sandbox account.
Contact MTS including your Sandbox Email Address by clicking on https://www.paypal.com/mts.
---
Sign up for Website Payments Pro
Once your account is verified, you can then sign it up for Website Payments Pro.
1. Log into your sandbox PayPal Account at https://sandbox.paypal.com.
2. Click Products and Services, then Website Payments Pro.
3. Click Sign Up or Submit Application
4. Then fill in the Sign Up form. The data will not be verified, so you need not provide genuine details.
5. Select both Recurring Payments and Fraud Filters.
6. Immediately, after you application is complete, you will get an approved email in your Sandbox email..
7. You can now request API credentials to test Direct Payment and Express Checkout.