Get Started with Payments Pro with our easy to use "Add to Order" Button Generator

Simple to use PayPal Pro Online Store.
Generates the HTML code for a PayPal Payments Pro shopping cart.

PayPal Express, Pro and Standard, WorldPay, Authorize Net and Nochex compatible.

Generates simple to use "Buy Now" or "Add to Cart" buttons to insert into your existing webpage.
Go to our working setup program to try it out.
Easy to use Pro Store Builder

Setting Up a PayPal Sandbox Test Account for the Store Builder
---
PayPal Payments Pro consists of three separate elements.
Express Checkout
This is a simplified way for existing customers to order goods quickly and easily. After clicking on a shopping cart buy now button they are taken to the PayPal site to confirm the payment method and then back to the merchants site to finalise the transaction.
Direct Payment
Like a conventional merchant account, transactions are processed entirely on the owners site, giving the store a more professional look. At no time in the ordering process is the customer redirected to PayPal. This option is designed to run in conjunction with Express Checkout.
Virtual Terminal
This let merchant take orders by fax and telephone. The customer's credit or debit card numbers is entered into a browser based interface by the owner of the store for processing. The store owner does not require either a shopping cart or website.
Transaction fees only apply when an order is received. There is no long term contract, unlike some merchant accounts which require an annual sign up period. You can also use Payments Pro together with other payment methods, giving more choice to the customer.
An alternative payment plugin for PayPal can be found at PayPal Payments Pro plugin.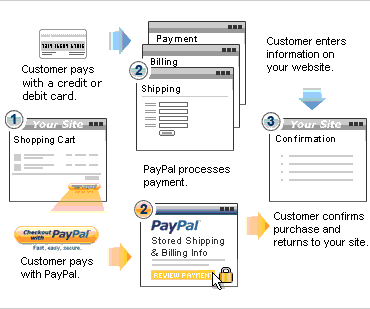 ---
(3) Purchase the Full Version of our Payments Pro compatible shopping cart and "Add to Basket" button Generator

This removes the demo sign, our name and link from the shopping cart software.
Users receive help and user support for the the store.